IFRS and US GAAP: Similarities and Differences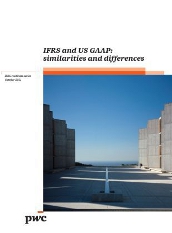 The SEC has indicated that by year-end it will decide on next steps regarding whether, when, and how IFRS should be incorporated into the US financial reporting system. In the meantime, the FASB and the IASB continue to deliberate key convergence projects, which they plan to finalize in the latter half of 2012.
Although the future of IFRS in the US financial reporting system is uncertain, IFRS already affects US companies today due to cross-border mergers and acquisitions, business dealings with non-US customers and vendors, and as a consequence of the adoption of IFRS for statutory purposes by non-US subsidiaries.
It's not easy keeping track of what's changing and how, but this publication can help. Changes for 2011 include:
· Revised introduction reflecting the current status, likely next steps, and what companies should be doing now (see page 2);
· Updated convergence timeline, including current proposed timing of exposure drafts, deliberations, comment periods, and final standards (see page 7);
· More current analysis of the differences between IFRS and US GAAP -- including an assessment of the impact embodied within the differences (starting on page 17); and
· Details incorporating authoritative standards and interpretive guidance issued through July 31, 2011 (throughout).
This continues to be one of PwC's most-read publications, and we are confident the 2011 edition will further your understanding of these issues and potential next steps.
For further exploration of the similarities and differences between IFRS and US GAAP, please also visit our IFRS Video Learning Center and Download This Interesting Paper here.
To request a hard copy of this publication, please contact your PwC engagement team or contact us.