BDO Chief's Eventful International Tenure Ends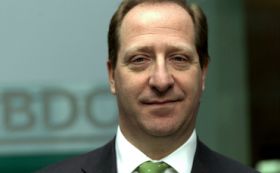 BDO'S INTERNATIONAL CEO Jeremy Newman will relinquish the reins at the end of September, making way for Dutchman Martin van Roekel, European chief executive officer and global head of network development.
Newman said the firm "has made great steps" in the three years since he took up the helm ut added that "this is no time for complacency".
The crowning glory of his stint at the top is China, where development has exceeded his wildest expectations. The firm had 800 bodies in the country four years ago; now it boasts 6,500.
Newman said: "We found the right people to back in China; leadership has been first rate and the political establishment was behind us the whole way". he commented further that the Chinese government's desire to foster serious competition against the Big Four meant BDO received full backing, especially as it adopted a state-favoured business model that places nationals firmly at the head of member firms.
BDO moved to a common global brand between October and December 2009 and Newman is proud of the unprecedented speed of the switch. "In the end, there was no resistance; the firms were fully engaged and worked with us to complete the project as fast as possible," he recalled.
But the years have not been without disappointment. The poaching of BDO Brazil by KPMG marred his final months in the post, on which a bruised Newman accused the firm of using its dominant position to buy market share.
Newman also oversaw a messy court case involving one of the global network's member firms, BDO Seidman. It was originally held accountable for audit failures in the case of factoring company Bankest, owned by Banco Espirito Santo, and ordered to pay $521m (£321m) damages.
The claim was thrown out by an appellate court before a settlement was reached in May. At one time, it looked as though BDO International might be held liable for the damages, a potentially game-changing precedent that could see global networks forced to accept responsibility for the misdemeanours of their member firms.
One issue that has not been resolved during his tenure is that of the Big Four's dominance of major audits.
Having called for regulatory measures to tackle the market issues for many years, the BDO man regrets not being in office to see the longed-for changes, which he claims "are only starting now". He remarked: "I am confident that the European Commission will do something and I only hope that proposed regulatory changes will be seen through."
If he were stepping into the post now, regulatory revolution would be top of Newman's agenda. "There is an absolute opportunity now to push it and push it hard."
China would also remain a priority because "nowhere else will match it for growth and outreach". BDO is hoping for a "strong footprint in the rest of the world" thanks to its engagement in the area and Chinese companies increasingly moving onto the international stage.
Newman won't be drawn on his plans post-BDO. He is prepared to take several months off "in the absence of a clear idea of what to do next" and will consider his options until the year is out. One thing is for certain: it will not be long before we're hearing more from this loquacious leader.
Start free ReadyRatios
financial analysis now!
start online
No registration required!
But once registered, additional features are available.