Obama to Lay Out Fresh Deficit Proposals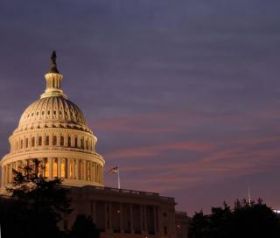 US President Barack Obama has dismissed last week's downgrade of US long-term debt by Standard & Poor's, saying "we've always been and always will be a triple-A country".

The President however said congressional leaders should heed the warning about a "lack of political will" on Capitol Hill to deal with the budget deficit and compromise on coming reforms.

He said that the downgrade should give a new sense of impetus to legislators joining a bipartisan Joint Select Committee, who are scheduled to report by 23 November on reducing the deficit by an additional $1.5tn (€1tn).

The committee will be asked to look at both entitlement and tax reforms, with Congress required to vote on its recommendations by 23 December. In his press conference on Monday, Obama also said he would lay out his own proposals for the committee to consider in the next few weeks.
"I realise that after what we just went through, there's some scepticism that Republicans and Democrats on the so-called super committee, this joint committee that's been set up, will be able to reach a compromise, but my hope is that Friday's news will give us a renewed sense of urgency."

"I intend to present my own recommendations over the coming weeks on how we should proceed. And that committee will have this administration's full cooperation. And I assure you, we will stay on it until we get the job done."

In a rare sign of public unity, Republican House speaker John Boehner responded shortly after by saying he agreed with much of the President's remarks."I agree with the President that we did not need a ratings agency to tell us America is facing a debt crisis," Boehner said.

"But difficult work remains, and over the next few months members of the Joint Select Committee will need to make tough choices to rein in the mandatory and entitlement spending that is driving our long-term debt.

"It is welcome news that the President will contribute to this process by laying out specific reforms he supports."Fellow Republican John Corbyn, a member of the Senate Budget and Finance Committees, was however less sympathetic to the President.
Start free ReadyRatios
financial analysis now!
start online
No registration required!
But once registered, additional features are available.