SEC Obtains Settlements with CEO and CFO to Clawback Bonuses Under Sarbanes-Oxley Section 304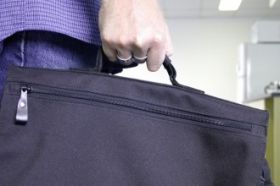 The Securities and Exchange Commission charged four former senior executives and accountants at the British subsidiary of an Indiana-based manufacturer of medical devices and aerospace products for their roles in an accounting fraud that was so pervasive that it distorted the financial statements of the parent company.
The SEC also reached settlements with the company's former CEO and current CFO, who were not involved or aware of the scheme at the subsidiary, to recover bonus compensation and stock profits they received while the fraud was occurring and inflating company profits.
The SEC alleges that vice president for European operations Richard J. Senior, finance director Matthew Bell, controller Lynne Norman, and management accountant Shaun P. Whiteley orchestrated and carried out the fraud at Thornton Precision Components (TPC), which is the Sheffield, England-based subsidiary of NYSE-listed Symmetry Medical Inc. The accounting scheme involved the systematic understatement of expenses and overstatement of assets and revenues at TPC, and materially distorted Symmetry's financial statements for a three-year period.
The four executives and accountants, as well as Symmetry in a separate administrative proceeding, agreed to settle the SEC's charges, and the subsidiary's two outside auditors formerly of Ernst & Young LLP UK agreed to suspensions for their deficient audits.
"The accounting fraud orchestrated by TPC executives had a ripple effect right up to the financials of the parent company. Symmetry shareholders were investing their money – and Symmetry and TPC executives were collecting their bonuses – based in part on inflated numbers," said Stephen L. Cohen, Associate Director of the SEC's Division of Enforcement.
"We also found significant failures by two outside auditors, which helped this fraud to continue undetected. Accountants who practice before the SEC, including those who audit foreign subsidiaries of U.S. registrants, need to make sure their audits conform to U.S. auditing standards or they won't be allowed to practice before the SEC."
According to the SEC's complaint filed in federal court in South Bend, Ind., Symmetry's annual financial statements for 2005 and 2006 as well as other reporting periods were materially misstated as a result of misconduct in the reporting of TPC's financials.
Senior, Bell and Norman made false certifications as to the accuracy of the financial information reported to Symmetry by TPC, and lied to TPC's outside auditors. Meanwhile, Senior and Bell each received bonuses and sold Symmetry stock at prices they knew or recklessly disregarded were fraudulently inflated by the accounting fraud taking place at TPC.
In a separate complaint also filed in the same federal court, the SEC is seeking reimbursement for bonuses and other incentive-based and equity-based compensation received by Symmetry's former CEO Brian S. Moore under Section 304 of the Sarbanes-Oxley Act. Under the settlement, subject to court approval, Moore agreed to reimburse $450,000 to Symmetry.
The SEC also instituted separate settled administrative proceedings against Symmetry and its CFO Fred L. Hite. The SEC finds that Hite failed to provide an internal audit status report concerning TPC to Symmetry's Audit Committee in July 2006.
Although the internal audit status report had not uncovered the fraud at TPC, it did raise the potential for deeper problems there. Hite also failed to reimburse Symmetry for bonuses, other compensation, and Symmetry stock-sale proceeds he received while the fraud occurred at the subsidiary (as required by SOX Section 304).
Hite agreed to pay a $25,000 penalty and reimburse $185,000 to Symmetry. For its part, Symmetry agreed to a cease-and-desist order against future financial reporting, books-and-records and internal controls violations.
The SEC separately instituted and settled administrative proceedings against two associate chartered accountants in the United Kingdom – Christopher J. Kelly and Margaret Hebb née Whyte – who were the former audit partner and audit manager on Ernst & Young LLP UK's audits of TPC for its 2004 to 2006 fiscal years (in the case of Kelly) and its 2005 and 2006 fiscal years (in the case of Hebb).
The SEC's order finds that Kelly and Hebb engaged in improper professional conduct by, among other things, failing to properly audit TPC's accounts receivable balances and inventory. The order suspends both Kelly and Hebb from appearing or practicing before the SEC as accountants, with the opportunity to seek reinstatement after two years.
The United Kingdom's Financial Services Authority assisted the SEC in this matter.
Start free ReadyRatios
financial analysis now!
start online
No registration required!
But once registered, additional features are available.