Hedge Funds Hit by Obama Tax Reforms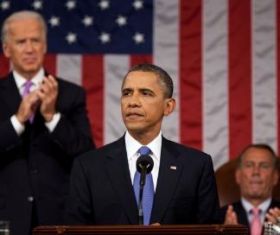 Large corporations and hedge funds in the US face an end to lucrative tax loopholes after President Barack Obama unveiled a new $450bn (€326bn) package aimed at boosting employment.

The American Jobs Act, if passed by Congress, could recoup as much as $20bn (€14.5bn) over the next decade from closing down tax saving routes for hedge fund managers.

Big corporations will also be hit by changes to the tax code, which seeks to end hedge fund managers paying just 15 per cent on income tax through a carried interest capital gains loophole.

The President insisted however that by eliminating deductions and loopholes for some companies he would be able to lower the country's overall corporate tax rate.

The bill, which is likely to arouse strong opposition from Republicans, would also see 98 per cent of US businesses having their payroll taxes halved next year, Obama announced on Thursday.
Smaller firms will receive tax cuts if they hire new workers or raise employee wages. Companies will also receive a $4,000 tax credit if they hire anyone who has been unemployed for at least six months.

There will also be reductions in regulations for entrepreneurs and measures to help small businesses raise capital.

"The purpose of the American Jobs Act is simple: to put more people back to work and more money in the pockets of those who are working," the President said in a joint address to Congress.

"While most people in this country struggle to make ends meet, a few of the most affluent citizens and most profitable corporations enjoy tax breaks and loopholes that nobody else gets."

"While corporate profits have come roaring back, smaller companies haven't. So for everyone who speaks so passionately about making life easier for job creators, this plan is for you."

Obama also hinted that he would look to impose higher tax rates on the country's richest citizens.

In a direct reference to Warren Buffett's call for the richest US citizens to pay higher taxes, Obama said he would look to fix the "outrage" that Buffett currently pays a lower tax rate than his secretary.

The President said he will ask "the wealthiest Americans to pay their fair share."

The American Jobs Act also includes a series of measures boosting spending on transport, construction, schooling and reforming the country's unemployment insurance.

The President said it will be paid for by a series of spending cuts and by asking Congress to extend the planned $1.5tn of cuts that will be made by the congressional 'super committee'.

Obama was strident in his criticism of a tax code which he said "stands as a monument to special interest influence in Washington".

He continued: "Our tax code should not give an advantage to companies that can afford the best-connected lobbyists. It should give an advantage to companies that invest and create jobs right here in the United States of America." 
Start free ReadyRatios
financial analysis now!
start online
No registration required!
But once registered, additional features are available.