Untold Consequences Loom in Audit-Only Landscape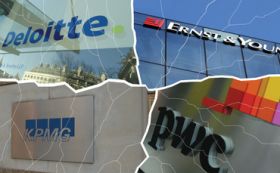 AMONG THE game-changing proposals packed into Barnier's draft green paper on audit, the scariest must be the separation of audit and non-audit services at the largest firms.
Quite what this would mean for the audit market is anyone's guess. One expert observer called the proposal "absolutely ridiculous", saying claims that it would improve audit are "a staggering assertion".
Firms "of a significant dimension" would be caught by the proposed regulation, which could force them to specialise in either audit or non-audit services as part of imposing a blanket ban on consultancy services, even to non-audit clients.
If the Big Four were forced down this track, they would have several options. They could hive off their audit practice, creating two separate firms under the same brand. Some might choose to partner with another, audit-performing firm, establishing a symbiotic relationship where clients are passed between the two. Or they could cease performing audit altogether.
This might result in more - not less - concentration at the top of the audit market, as firms decide focusing on consultancy makes more commercial sense.
Big Four bail-out?
One Big Four insider revealed: "We would seriously consider whether we wished to remain in audit" if Barnier's plans went ahead.
Audit traditionally carries a low profit margin, they claimed, saying it is "highly likely" that in the short-to-medium term prices would be even more depressed. "It would be very hard to make money," the insider concluded.
Other critics said quality would be seriously impaired, with audit-only firms lacking the wide skills base inherent in multi-service consultancies offering actuary, risk management and other expertise.
Without the chance to work across a range of disciplines, would accountants even choose to join an audit-only firm? One of the major attractions for Big Four employees is the chance to experience a range of different services and the freedom to move between them.
One expert observer said splitting the industry might result in "fourth-rate people auditing first-rate companies", claiming professional calibre would nose-dive.
Another industry insider saw significant risks in the dumbing down of audit quality combined with the unlimited liability of audit, suggesting firms could run into litigation problems. "This proposal would make the downfall or withdrawal of one of the Big Four much more likely," they concluded.
However, there are voices of dissent. One mid-tier partner who started at a Big Four firm said in their experience, the division between audit and non-audit services was so sharp that there is little crossover even under current circumstances.
And if moving between audit and consultancy is as easy as the Big Four claim, perhaps staff mobility would be little affected by splitting the firms?
Quality controlled
Crowe Clark Whitehall partner Fiona Hotston Moore* questioned whether separating the service lines might improve audit.
Audit-only firms could be more inclined to invest in training and relevant tools, potentially developing software or deepening auditors' expertise, she mused.
The audit tendering process might also change, given that the outlawing of non-audit services would eliminate the option to increase audit fee recoveries.
Accountancy qualifications could also be affected, she suggested, as pure-audit professionals would have little need for the wide-ranging skills with which new accountants traditionally start their careers.
Size matters
Barnier's "firms of significant dimension" caveat raises further questions. The suggested threshold is a turnover of €1.5bn (£1.3bn), which critics say is designed specifically to knobble the Big Four with no benefit to quality or independence.
If the threat of forced divestment of audit services was hanging over mid-tier firms' heads, would they artificially cap growth at a certain level to avoid a painful split?
BDO's global head Jeremy Newman claims not, saying the proposal "is not immediately worrying because of our size". Nevertheless, what incentive would there be to invest to the same degree as the Big Four, only to be bisected by Brussels?
Another headache for firms might be their international networks. Would a US arm, still with audit and consultancy services under the same roof, be allowed to audit a UK subsidiary?
Barnier has chosen to focus on the size of the firm when mooting the separation of services, but what about the size of the client?
Grant Thornton and BDO have some substantial audits on their books - should they be allowed to duck the pro-independence measure just by dint of their turnover?
The list of potential outcomes goes on and on, and critics warn the unintended consequences of the proposal are "too many to count".
One must wonder whether Barnier has considered them all, and whether the proposal will ever pass the gauntlet of European legislative scrutiny.
*Fiona Hotston Moore's views are her own and do not represent those of Crowe Clark Whitehall
Start free ReadyRatios
financial analysis now!
start online
No registration required!
But once registered, additional features are available.