New Model Audit: It's a Scary World Out There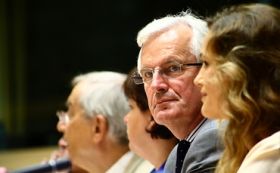 BARNIER'S DRAFT audit green paper audit hones in on major issues at the heart of the market, provoking heated response fr om those at the centre of the debate. However, more detached stakeholders, such as investors and legal professionals, view things in a slightly different light.
The expectation gap between audit's role and public understanding is the first problem highlighted in the green paper. Investors and lawyers share this primary concern, but some are unconvinced that Barnier's radical proposals hold the answer.

James Roberts and Andrew Forsyth of law firm Barlow Lyde & Gilbert are concerned measures to close the so-called audit gap - including expanded disclosure and more detailed report methodologies - are missing the point.
"Firms would be happy to change and develop the role of the audit report, but to do so is impossible with the threat of blockbuster liability claims hanging over their heads."
Barnier's plans to tweak the audit report, making it more transparent and comprehensive, might only go so far. With the public questioning why banks given a clean bill of health failed so soon after, a complete overhaul of the audit function could be in order.
However, this raises the question of legal liability. If firms are to give assurance on company prospects, risk management, business plans and everything between, they will need some protection fr om litigious risk heaped upon them by stakeholders effectively provided with more ammo to take down firms.
A UK initiative to limit auditor liability has fallen on its face, effectively rejected by shareholders unwilling to approve the sanctions required to release auditors from their legal risk.
Famously litigious, the US has been "very, very resistant" to the initiative, BLG partners noted, saying a "legal safe harbour" is necessary if the role of audit is to change substantively. In practice, this would mean the audit report being prepared subject to certain parameters, with no risk of suing.
Legal wrangling brings us back to the issue of regulation. In an increasingly global market, the efforts of national regulators to improve audit might fall flat, as demonstrated by the UK's attempt at lim iting audit liability.
Crispin Southgate, director of Institutional Investment Advisors, underlined the international character of the financial crisis, for example European banks investing in US sub-prime mortgages.
Barnier (pictured) has called for more regulatory power in Brussels, but this forum could still be too narrow to meet the objective of improved audit quality and independence. "In the global context, regulatory sub-consolidation at EU level won't necessarily help," Southgate suggested.
If this is the case, what hope for Barnier's scheme? Tighter legislation in Brussels might stop regulatory arbitrage at European level, but what about the rest of the world?
This apparent short-sightedness is evident in other areas of the paper. How would audit-only firms, the most radical proposal on the table, work when it came to auditing UK subsidiaries in countries without the rule?
And how would country-by-country disclosure of payments to governments by extractive and forestry companies, a proposal in the transparency paper, function without international agreement?
One expert observer has warned the measure could see EU companies losing contracts to rivals from countries without such stringent disclosure rules, suggesting the measure is just a sop to please NGOs.
It is clear that despite the relatively insular nature of regulation, taking bold steps is tricky in a world wh ere commercial considerations are paramount. While Barnier's proposals are radical, they could fall down when faced with resistance not just from "vested interests", but from the practicalities of operating in a global market.
Start free ReadyRatios
financial analysis now!
start online
No registration required!
But once registered, additional features are available.