IFRS Boss to Deliver Paper on IFRS Implications at Inauguration of Capital Market Correspondents Association Executives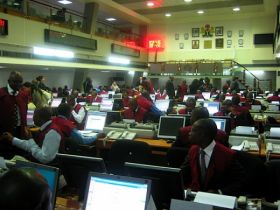 Mr Jim Obazee is a chief executive of Financial Reporting Council in Nigeria. According to WorldStage, he would address the members of Capital Market Correspondents of Nigeria in an inagural ceremony on the implementation of International Financial Reporting Standards. The date is set on 14th of this month. The chief guest would welcome the new executive staff of the association and best wishes will be shard on the occasion.
According to a report, the following new officers will work for the association for next three years.
· Mr Goddy Egene (President)
· Mrs Chinyere Joel-Nwoakoma (Vice President)
· Mr Friday Ekeoba (General Secretary)
· Mr Kayode Ogunwale (Assistant Secretary)
· Mr Chris Ugwu (Financial Secretary)
· Tolu Osundolire (Treasurer)
CAMCAN is a very active organization in Nigeria. It is working under the lights of senior journalists of the country. The role of the organization is to report and monitor any active in the capital market of the nation. The organization is very keen for the interest of stakeholders. That is why it is fully engaged in the improvements of the capital market.
CAMCAN has specially invited the chief executive officer of Securities and Exchange Commission of Nigeria, chief executive of Nigerian Stock Exchange, members of trade groups, managing directors of public and private limited companies and other officials at the ceremony.
Mr Jim Obazee has played very active part in the implementation of International Accounting Standards in the country. Now he has been given a task to make a strategy for the implementation of International Financial Reporting Standards in the capital market as well as in other areas of the country.
Mr Jim Obazee started working for Federal Civil Services in 1993. He was appointed as a senior manager. He was also working as a Head of Nigerian Accounting Standards Board's technical services department. He left this organization and joined Financial Reporting Council of Nigeria in November 2010. He got Bachelor degree in Accounting from Benin. Later on he got admission in University of Lagos and was awarded a master degree in Accounting. He is also a fellow member of Institute of Chartered Accountants of Nigeria.