Indian Minister for Corporate Affairs and Power Indicates Adoption of IFRS by 2013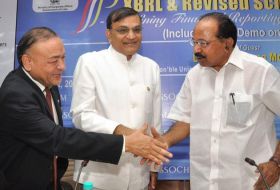 Addressing a seminar held in New Delhi, which was arranged by The Associated Chambers of Commerce and Industry of India, Dr. M. Verappa Moily, Indian minister for Corporate Affairs and Power has clarified that the Indian Financial Accounting Standards that is in sync with the International Financial Reporting Standards may be implemented by 1st of April 2013.
In the month of February in the year 2011, the Indian Ministry of Corporate Affairs had issued as many as thirty five Indian Accounting Standards that conformed with but were not similar to IFRS. During that time the ministry had clearly stated that implementing of accounting standards in a phased manner would happen only after some Indian tax related issues and other matters are resolved.
Issues related to tax basically revolved around the Indian Direct Taxes Code, with respect to utilizing accounting related information for determining liabilities associated with tax. However, there has been no major development in the area of Direct Taxes Code at present and therefore no specific time for implementing Indian Accounting Standards has been set or announced yet.
In his speech, Dr Moily mentioned that the ministry has come to a conclusion that no matter when the Direct Taxes Code comes into effect, they will raise the matter before the Ministry of Finance. He also mentioned that the ministry will make sure that the implementation of International Financial Accounting Standards happens by 1st of April 2013.
Moily made these comments after a discussion revolving around the need for reforms to stay at par with changing trends and times globally took place within the ministry. Even though the speech is not clear and given the fact that implementation of IFRS in India involves a number of other procedures, it is now evident that India will move to IFRS eventually.
Moily also stated that new accounting standards are far more consistent, uniform and reliable as well as are designed to improve business credibility by including additional disclosures that will further result in enhanced corporate governing. Moily also stressed on the fact that there is a need to introduce fiscal, HR, process and governance related reforms in India.