Stocks Rise on Economic News, Accounting Change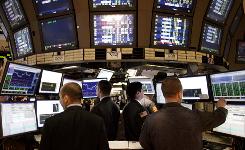 A change in the way banks value hard-to-price assets, coupled with a a global plan to boost the economy, Thursday added juice to what is shaping up to be the market's best four-week sprint in 76 years.
Each incremental piece of good news is making investors more comfortable wading back into stocks. That was clear Thursday when the Dow Jones industrial average surged 216 points, or 2.8%, to 7978, narrowly missing closing above the 8000 mark for the first time in more than two months. "It's starting to look less worse," says Karl Mills of Jurika Mills and Keifer.
Traders were first relieved by a decision to loosen so-called mark-to-market rules, giving banks more leeway in how they record the value of some assets. And the announcement by G-20 nations to boost the International Monetary Fund's resources added hopes world economies will mend. The resulting rally was noteworthy in several respects, including the:
•Strong jump in transportation stocks. The Dow Jones transportation average soared 7.9%. Investors often look to transportation stocks as an early indicator of higher economic activity.
•String of gains. The Dow industrials' 20.4% gain the past four weeks is its best four-week streak of gains since May 12, 1933.
•Repair of some of the year's damage. The Nasdaq composite index rose 51 points, or 3.3%, to 1603, meaning the tech-heavy index is now up 1.6% for the year.
Thanks in part to the easing of mark-to-market rules, investors have more reason to expect better corporate earnings in the third and fourth quarters, especially from banks, says Robert Maltbie of Singular Research.
Maltbie and others say letting banks be less forthcoming about their assets' value may reduce information to investors (story, 3B). "As a purist, I don't like it, I like the truth; but sometimes, the truth hurts," he says.
But there could be broader good for the market, Maltbie says, because the looser accounting rules will help put a floor under home prices and stabilize banks, two things needed for stocks to bottom.
Others fear the new accounting rules only provide fuel for short-term speculators and temporarily mask the economy's problems. Despite recent gains, for instance, the Standard & Poor's 500, which rallied 2.9% Thursday, is still down 7.6% this year.
Investors who buy into a rally thinking a new accounting rule fixes the economy's woes are deluding themselves, says Lynn Turner, a senior adviser to accounting firm LECG. "It would be like someone waking up in the morning after Hurricane Katrina and saying the sun is shining and thinking everything is fine," he says.
Start free ReadyRatios
financial analysis now!
start online
No registration required!
But once registered, additional features are available.