KPMG Records Holiday Books for Needy Children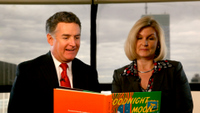 KPMG employees around the country are lending their voices to a community service project, producing recordable books for the holidays that will be given to disabled and underprivileged children.
The effort, dubbed "Operation Season's gREADINGs Out Loud!", is expected to produce 11,000 books that will be delivered to local charities chosen by the firm's more than 85 offices and then presented to children in need for the holiday season. Thousands of KPMG LLP employees are participating in the program, which brings together pairs of employees fr om different levels and functions within the firm to read books such as "Goodnight Moon," "Curious You: On Your Way!," and "We're Not Scared of Anything."
The books will be distributed by KPMG's employees to hospitals, non-profit organizations and schools.
They produce the recordable books in 15-minute book-reading sessions. The program is designed to create a unique "esprit de corps" experience for the KPMG "co-reader" employee pairs.
The holiday project is the latest literacy drive for the firm, which so far has delivered more than 1,600,000 books to disadvantaged children in local communities across the country through KPMG's Family for Literacy initiative. The program began four years ago, in cooperation with the literacy non-profit organization First Book.
"We have a long history at KPMG of investment in communities wh ere we and our clients live and work, and this is particularly true in our efforts to improve literacy," said KPMG LLP chairman and CEO John Veihmeyer in a statement. "We're excited by the positive impact that 'Operation Season's gREADings Out Loud!' will have as part of our ongoing efforts to ensure that all children have access to one of the most important tools needed to prepare them for future success. We also hope that putting a book in a child's hand brightens their face and enhances the way they experience the holidays this year. Keeping in mind that one of the greatest barriers to children's literacy is access to books, this initiative—which we believe may be the first to use recordable books on this scale nationwide—provides another opportunity for KPMG to support children and families in our communities by engaging our skills, knowledge, passions and financial resources to make a real difference."
Veihmeyer read the book "Goodnight Moon," paired with KPMG partner Christine Aspell, who works in the firm's audit practice in Baltimore. KPMG deputy chairman and COO Henry Keizer read "Goodnight Moon" with Zoe Bogan, who works in KPMG's financial services practice in New York.
"Importantly, 'Operation Season's gREADings' will bring thousands of our employees together, connecting individuals across our teams who might not normally interact on a daily basis," said Keizer in a statement."Every day, our people work as a team to serve our clients; now, through this initiative, they are coming even closer together to serve our communities and the needs of others."
This month, plans call for 11,000 books to be delivered to local charities chosen by each of the firm's offices and then presented to children in need in time for the holidays. As part of "Operation Season's gREADings Out Loud!," for example, the firm's Montvale, N.J., employees will provide books to the children of military families through organizations including Operation Military Kids, Blue Star Families, the USO and the Warfighters Family Readiness Center.
KPMG will also be donating an additional 14,000 traditional books to children in need across the country, bringing the anticipated number of books donated by the firm to 25,000 during the 2011 holiday season.
Start free ReadyRatios
financial analysis now!
start online
No registration required!
But once registered, additional features are available.