IC Opportunities Event – A Forum for Industry Innovation and Change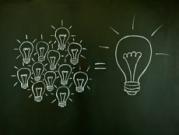 Jason Blumer, CPA and "chief innovation officer" of Blumer and Associates CPAs in Greenville, South Carolina, has no problem admitting to the conservative nature of the accounting profession. Its reverence of tradition and legacy; its hierarchical leadership style; and its rigormortis-like reliance on "tried-and-true" business practices, like old-school bookkeeping and billable hours, are what once made the profession great.
But today, Blumer said, he has no doubt the same conservatism that once enhanced the profession, is now harming it.
"In the past, the thing that made us great was our conservative nature, but now it's the thing that's hurting us," said Blumer, who also founded THRIVEal +CPA Network, an online community devoted to documenting the growth of public accountancy. "The world is different now. We have to constantly change and evolve or we'll fall behind. Our conservative nature will be the death of us."
Blumer's passion for innovation and change and a need to embrace new technologies were some of the reasons he and several other thought leaders in the financial profession decided to attend the inaugural Innovation and Collaboration Opportunities (IC Opportunities) event held February 8 and 9 at the Hyatt Regency in Schaumburg, Illinois.
The event was the brainchild of Jody Padar, who is the CEO and principal of New Vision CPA Group, which hosted the event.
"These young CPAs and other industry professionals need a place to talk. The conversation is really exploding," Padar said. "There's a definite need for the next-generation firms, the thirty-five- to forty-year-olds who are coming into leadership, to say the world has changed. How do we do things better? How do we adapt?"
The IC Opportunities event united some of the most influential thought leaders in tax, accounting, technology, and consulting for the purpose of providing a "safe space" where they could share pioneering ideas about the accounting profession.
The event was the latest attempt to provide a forum to capture the energy of a new movement among young and young-thinking accountants – a movement that has been forged through a revolutionary discussion of innovation and collaboration on blogs, Facebook, Twitter, LinkedIn, and other technology programs. In fact, social media played a major role in bringing these thought leaders together and providing the genesis of the event.
Padar said her goal with IC Opportunities was to break down the "silos" profession leaders are currently operating in and create an open forum for discussion, antithetical to the typical CPA society convention.
The event was attended by CPAs, vendors, consultants, and members of the financial media.
"People felt they were in a safe place where they could discuss the elephant in the room in our profession – the old culture of a CPA firm," Padar said. "Billable hours, the command-and-control work style, the lack of training . . . next-generation firms don't run that way at all."
So what are next-generation firm leaders interested in? Padar and Blumer both say members of this new movement want to:
- Shatter the profession's conservative image and reluctance to change.
- Replace traditional hierarchical management styles and create an environment where all employees are treated as equals.
- Institute a "results-only" work environment where employees are valued for their talents, not their time sheets.
- Create a culture of innovation where professionals won't let fear hold them back fr om finding new ways to better serve their clients.
- Replace billable hours with value pricing.
- Position CPAs as purveyors of intellectual capital, not bookkeepers.
- Find new ways to integrate new technologies, particularly social media and cloud computing, into their practices.
"As a profession, we need to create big things and we haven't created them yet. Younger firms want to innovate new ways to serve their clients, new ways to niche themselves," Blumer said. "We need to create a climate where we encourage them to innovate. We need to tell them even if things don't work out, even if they blow themselves up, they can't let fear hold them back from innovating because the ones who will really benefit in the long run are our clients."
Padar says the movement needs to continue to spawn grass roots efforts, like IC Opportunities, that provide a platform for new ideas, inspiration, and perhaps most importantly, that give thought leaders the chance to realize they aren't "lost souls" in an innovation purgatory.
"My whole idea behind IC Opportunities was to provide people in this movement a place wh ere they could feel like they are dancing together as opposed to dancing separately, as opposed to being the odd duck fighting the elephant alone," Padar said. "That's the only way we'll move forward."
Start free ReadyRatios
financial analysis now!
start online
No registration required!
But once registered, additional features are available.