BoE Governor Admits Failings Over Credit Crunch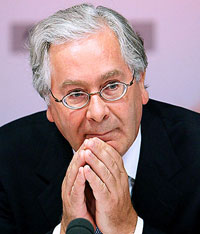 Sir Mervyn King, the Bank of England governor, has confessed that he should have 'shouted fr om the rooftops' in the run up to the financial crisis that led to 'the worst recession since the 1930s'.
Speaking at the 2012 Today programme lecture on Wednesday, he said: 'So why, you might ask, did the Bank of England not do more to prevent the disaster? We should have. But the power to regulate banks had been taken away from us in 1997. Our power was lim ited to that of publishing reports and preaching sermons. And we did preach sermons about the risks. But we didn't imagine the scale of the disaster that would occur when the risks crystallised.'
'With the benefit of hindsight, we should have shouted from the rooftops that a system had been built in which banks were too important to fail, that banks had grown too quickly and borrowed too much, and that so-called "light-touch" regulation hadn't prevented any of this.'
King didn't shy away from acknowledging the pain the crisis had caused. He said the number of those now out of work in the UK had risen by 'over a million' to 2.65m.
'To many of you, this will seem deeply unfair,' he said. 'And it is.'
He referenced the Queen, who quizzed a London School of Economics professor: 'Why did no one see this coming?' King replied: 'No one believed it could happen. There was a failure of imagination to appreciate the scale of the fragilities and their potential consequences.'
He admitted that no-one had emerged unscathed from the crisis: 'I don't think any central bank or indeed any finance ministry or regulator feels that they've come out well from this because something very wrong happened that's very clear.
'The only thing we can do now is make sure we learn the lessons. And I think in Britain we've learned more lessons than most other countries.'
Start free ReadyRatios
financial analysis now!
start online
No registration required!
But once registered, additional features are available.