Survey Finds Americans Out of Touch with How Much They Spend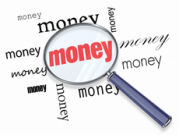 A new survey conducted by Rasmussen Reports for the Consumer Federation of America ‒ the COUNTRY Financial Security Index – shows a gap between what Americans think they're spending and what's happening in reality.
Only 9 percent of the 3,000 respondents of the survey said their lifestyle is more than they can afford, yet 21 percent say they spend more than they make at least a few months every year.
The survey suggests the so-called "perception gap" could shrink if more people used a household budget. Those who budget are more likely to set monthly savings goals (61 percent) than those who don't (30 percent), COUNTRY Financial says.
Keith Brannan, vice president of Financial Security Planning at COUNTRY Financial, calls budgeting an important first step, but adds, "A budget is only helpful if it's realistic and tailored to your situation. If you're struggling to save, try paying yourself first. Deposit a portion of your monthly income into a separate account. Don't leave savings to chance."
Other tips:
· Review your spending behavior. Take a look at where the money goes every month and make adjustments where needed, Brannan says.
· Start a spending and savings plan. Put money in jars or envelopes or start a Christmas fund. When the money's gone, stop spending. Some people are even stashing their extra cash under their mattress or in a bedframe outfitted with a safe. In fact, safe sales are up 40 percent from a few years ago, SmartMoneyreported.
· Rethink expenses. When Joe Mihalic earned an MBA from Harvard Business School that resulted in more than a $100,000 debt, he vowed to repay his debt quickly. He blogged about giving up dinner dates and movies, missing parties and weddings, ending 401(k) contributions, and staying home for Christmas. He stopped buying clothes, sold a second car and motorcycle, rented a spare bedroom, and started a side business. He told Fortunemagazine, "A lot of people in this country – regardless of socioeconomic status – have an unhealthy obsession with things and experiences and statuses. We shop brands; we drop names. We try to keep up with the Joneses. We comfortably tolerate an unhealthy level of debt."
· Involve your children in your financial plan. Explain your goals for retirement savings and other things you value, Laura Scharr, principal of Ascend Financial Planning LLC in Columbia, South Carolina, told Fox Business. "Be honest and upfront with your children," she said.
The COUNTRY Financial survey says budgeters and those who don't budget do have one thing in common: They miss the mark on their savings goals. Of budgeters, 57 percent achieve their savings goals half the time or less, while the number is 54 percent for the non-budgeters.
How are Americans making ends meet when the budget runs out?
· 36 percent raid their savings accounts.
· 22 percent use credit cards.
· 14 percent adjust their spending next month.
Start free ReadyRatios
financial analysis now!
start online
No registration required! But if you signed up extra ReadyRatios features will be available.