Customers Not Satisfied with Bank Services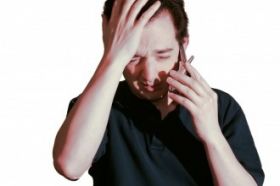 Customers have expressed deep levels of dissatisfaction with the service they receive fr om banks, putting the future of the high street bank under the spotlight once again.
This was according to the analysis of views expressed by 2,000 consumers in a survey conducted by KPMG. The poll also shows that the lack of tailored products on offer is leading customers to look elsewhere and hints that banks need to improve their branch, telephone, online and mobile banking facilities, if they are to remain competitive.
KPMG's 'Banking Customer Gauge' reveals that just 21 percent of respondents are very satisfied with their main bank or building society. Only 19 percent are 'highly likely to recommend' their bank to friends or colleagues and just 15 percent claim to have strong loyalty to their current account provider.
The figures are worse amongst younger customers, with only 15 percent of those aged 25-34 likely to recommend their bank, compared to 26 percent of those aged 55-plus.
Mark Guinibert, customer and channel partner at KPMG, says: "Frustration is bubbling under the surface, but banks are currently holding on to their customers as there are no 'stand out' alternatives. New players may make the choice to switch an easier one, if they can offer flexible approaches and products that meet different customer needs. It's a possibility that should not be dismissed, and one which means we could soon witness a change to the face of banking."
Asked why customer satisfaction levels are so low, respondents indicated that many banks are not providing personalised services. A mere 10 percent strongly agree that 'my bank understands my needs' and 29 percent admit they resent banks attempts to sell new products.
Beyond the High Street
Respondents also suggest that the industry has not yet adjusted to the demands of multi-channel banking, with only 1 in 4 thinking their bank is 'proactive in offering new or better ways to bank'. Even with App downloads across Android and Apple platforms increasing, just 33 percent are also happy with the mobile banking Apps on offer.
Mark Guinibert continues: "Expectations have been set by the growth of mobile Apps, but it seems that banks have yet to catch up. Younger customers have been brought up on a diet of computers, programming and Apps and are hungry for a marketplace that reflects their appetite for banking on the move.
"It means investing in innovative technology and the security to protect customer data. But people shouldn't be lulled into the belief that it's just the demands of younger customers that matter; the so-called 'silver surfer' generation is known to have spent £2.5 billion on computer and mobile equipment. Theirs is an untapped market which should not be ignored."
There is always another way
It is clear from @KPMG_UK_LLP's 'Banking Customer Gauge' that new ways of building customer engagement must be found. Of those questioned, only 22 percent claimed to be 'very satisfied' with the Branch banking service they receive; the figure also fluctuates when telephone banking (15 percent) and online banking services (37 percent) are considered. With just 13 percent positive about their mobile banking experiences, the evidence suggests banks need to better understand their customer needs and improve the way they tailor services to meet demand.
The data shows that banks are also struggling to respond to the needs of customers at different life-stages. Fewer than 1 in 10 (8 percent) of those aged 25-34 'trust their bank to do the right thing for me' compared to 19 percent amongst those aged 55-plus. Additionally, 14 percent of 25-34 year olds would change bank 'just to try something new' – a figure which is more than double that for those aged 55-plus (6 percent).
It is also evident that younger customers are not turning to their main bank for core financial products. For example, only 39 percent of 25-34 year olds buy home insurance from their bank, compared to 69 percent of those aged 55-plus. Fewer (48 percent) of those aged 25-34 use bank credit cards than their counterparts aged 55-plus (63 percent).
Guinibert concludes: "The lack of differentiation between products and services on offer, coupled with low levels of innovation in the banking marketplace, means that customers may begin to question wh ere they put their money. Banks which keep themselves relevant and provide a good level of customer service across all age groups will be more likely to succeed. Perhaps the answer lies in creating a no frills, low cost, banking proposition because the sector cannot remain as it is."
The 'Banking Customer Gauge' was surveyed for KPMG by OnePoll.
Start free ReadyRatios
financial analysis now!
start online
No registration required!
But once registered, additional features are available.