U.K. Economic Outlook Cut by Ernst & Young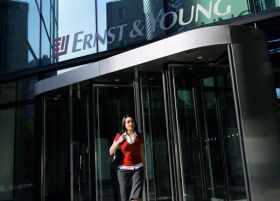 Ernst & Young LLP's Item Club cut its U.K. economic growth forecasts for the second time this year as weak consumer spending and Europe's sovereign-debt crisis cloud the outlook for the recovery.
Gross domestic product will increase 1.4 percent in 2011, compared with an April projection of 1.8 percent, the London- based Item Club, which uses the same forecasting model as the U.K. Treasury, said in an e-mailed report in London today. It will rise 2.2 percent in 2012, instead of 2.3 percent. The Item Club also reduced its forecasts in April.
"The U.K. economy has hit a critical juncture," Peter Spencer, chief economic adviser at the Item Club, said in the statement. "The risks to the world economy and the euro zone are plain to see, starting with the Greek default which hangs like the sword of Damocles over Europe."
The U.K. recovery is failing to gain momentum as inflation at more than double the Bank of England's target squeezes consumers' incomes and the government cuts spending to reduce the budget deficit. While there are imbalances in the pace of the global recovery, prospects for exports remain "encouraging," the Item Club said.
Pressure from inflation "is now so intense that spending and saving are both falling," it said. "With the government cuts now being implemented, this leaves the economic recovery totally dependent upon exports and business spending."
The Item Club also said Greece "still poses a major threat to the world financial system." The International Monetary Fund called last week for officials to adopt a "greater sense of urgency" in resolving the country's debt turmoil.
Inflation
U.K. inflation was at 4.2 percent in June, compared with the central bank's 2 percent target. Nevertheless, a separate report today shows it has yet to feed through to wages. The Engineering Employers Federation said that pay increases for the second quarter were 2.5 percent, unchanged from the three months through May. The report cited 293 wage deals covering 44,339 employees.
The Item Club still predicts the Bank of England will start raising its benchmark interest rate, currently at a record low 0.5 percent, in November.
Start free ReadyRatios
financial analysis now!
start online
No registration required! But if you signed up extra ReadyRatios features will be available.