Senators Tell Airlines to Stop Pocketing Ticket Taxes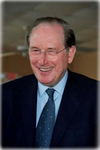 A pair of Democratic senators has written to the head of Delta Airlines and the Air Transport Association telling him that airlines should not be raising their fares to make money off the temporary expiration of ticket taxes.
Last Friday, Congress's failure to pass a reauthorization bill for the Federal Aviation Administration forced the FAA to furlough thousands of employees, delay airport reconstruction projects and temporarily suspend the collection of federal taxes and fees on airline tickets. However, instead of passing on the savings to passengers, many airlines decided instead to raise their fares and pocket the extra money. Congress failed to pass the bill when it was unable to resolve a dispute between Republicans and Democrats on issues like provisions involving union voting rights for air transportation employees.
In a letter Tuesday, Sen. Maria Cantwell, D-Wash., and Jay Rockefeller, D-W.Va., asked the airlines to either stop profiting from the temporary expiration of ticket taxes, or agree to return airline ticket tax funds to the trust fund that pays for improvements to airports and air traffic control systems. Rockefeller chairs the Senate Committee on Commerce, Science and Transportation, while Cantwell chairs the Subcommittee on Aviation Operations, Safety and Security.
Their letter was addressed to Delta Airlines CEO Richard Anderson, who chairs the industry group, the Air Transport Association. Delta is not the only airline to raise its fares, though. American Airlines, Frontier, JetBlue, Southwest, US Airways and Virgin America have also hiked their fares.
"Given the Air Transport Association's constant complaints about the burden that government taxes and fees impose on air travelers, we are deeply perplexed by the industry's pocketing of passenger tax revenue even though they expired on July 22, 2011," the senators wrote. "According to proess reports, most of ATA's members have elected not to pass the savings along to consumers through reduced ticket prices, but rather have decided to increase the base fare of airline tickets…We urge the nation's airlines to put all of the profits that they are making from the lapse of the aviation taxes into an escrow account so that they can be transferred back into the Airport and Airway Trust Fund when Congress reinstates the taxes."
Start free ReadyRatios
financial analysis now!
start online
No registration required! But if you signed up extra ReadyRatios features will be available.