Russell Simmons Offers to Pay More Taxes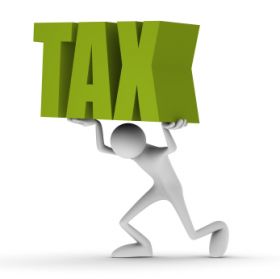 During an appearance Tuesday on MSNBC's "Morning Joe" show, Simmons, who co-founded Def Jam Records, talked about President Obama's proposals for balancing the budget and raising the debt ceiling, in part by raising taxes on the wealthy and large oil companies.
"The idea that I can't pay more taxes is crazy, that oil companies can't repeal a tax break that they got is nuts with the success that they have," said Simmons. "The Dow Jones was at 8,000. It's now 12,000. A lot of the rich are prospering, and I think we can afford to handle the load, and it's unreasonable to think that we shouldn't have to. And I can't imagine that they could keep a base of people in this country who are struggling, the Republicans, and act in such bad faith. So that's my take on it. I'm happy to pay more taxes. I wouldn't want to put it in the war machine, but I would put it in the country."
Simmons was a prominent supporter of Obama during the 2008 campaign. "We have to get money to invest, so we have to figure out ways to create income," he said. "That's what the President is working on, and he should be supported, and it should be obvious."
The MSNBC segment also highlighted a new studyf rom the Pew Research Center that shows a growing disparity in income in the wake of the recession between ethnic and racial groups, with the median wealth of white households 20 times that of African American households and 18 times that of Latino houeholds. "We're not raising taxes," Simmons added. "We gave them a break for a minute and the rich got richer, and now they have to pay."
Simmons is raising money for inner city arts programs for young people through his RUSH Philanthropic Arts Foundation's Art for Life program through an auction benefit at CharityBuzz.com.
Start free ReadyRatios
financial analysis now!
start online
No registration required!
But once registered, additional features are available.