KPMG Breaks Ground on Learning and Training Facility in Florida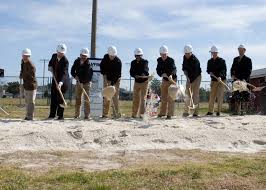 The Big four firm KPMG has started working on the construction of its $400m learning facility in Orlando, Florida. On Monday, KPMG conducted a groundbreaking ceremony with regards to kick starting the construction of its learning and training facility, in the Lake Nona neighborhood of Orlando.
In January, KPMG announced their plans with regards to constructing a facility within the Lake Nona community of Orlando. The facility center will consist of 800,000 square feet of space for meeting rooms, classrooms, dining area and residences. KPMG plans to finish the construction of the facility in 2019.
According to KPMG chair and CEO, Lynne Doughtie, the investment in the facility is the largest ever made by KPMG and is a step towards creating a platform that will provide our professionals with an opportunity to fulfill their potential and will also help the firm in attracting and retaining the best talent.
The facility will mainly be used for providing training to employees and to highlight changes and enhancements in technology. The campus will also include an innovation center for client meetings and training of employees. The campus will also have a heritage center which will showcase the history of KPMG.
According to Orlando Sentinel, KPMG received tax exemptions worth around about $3.5m, the firm received these exemptions in relation to the site from Orange County. The facility is expected to generate around about 80 new jobs and along with this the firm also expects to generate 330 more jobs for providing tax, audit and advisory services to clients in Florida.
The Governor of Florida Rick Scott congratulated KPMG on starting work with regards to construction of their new facility. Rick Scott also said that he is very proud with regards to construction of KPMG's facility and the creation of around about 330 new jobs in Florida. He also added that KPMG is a Global firm with an astounding presence in Florida and the announcement made by KPMG with regards to the creation of jobs in our state shows that how important it is for us as a state to do all we can do to fight to secure these types of opportunities.
The State of Florida and in particular their Governor is looking forward towards seeing the new facility and welcoming employees of KPMG from all across the nation to the State of Florida.
Start free ReadyRatios
financial analysis now!
start online
No registration required! But if you signed up extra ReadyRatios features will be available.