China Rebukes US over 'Financial Abyss'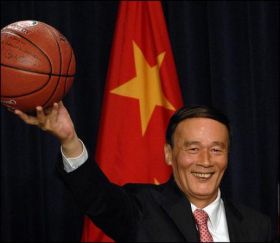 China has sternly rebuked the US over its handling of its budget deficit, in a sign of fraying international unity over the global economy.

The world's second biggest economy, the largest foreign holder of US government debt, demanded America "cure its addiction to debts" and live within its means.The commentary, published in Chinese state media, also warned of the danger of lurching to a "potential financial abyss".

Issued just hours after Standard and Poor's downgraded America's debt rating to AA+, it said "the days when the debt-ridden Uncle Sam could leisurely squander unlimited overseas borrowing appeared to be numbered".

"The US government has to come to terms with the painful fact that the good old days when it could just borrow its way out of messes of its own making are finally gone," said the government sanctioned statement.
"It should also stop its old practice of letting its domestic electoral politics take the global economy hostage and rely on the deep pockets of major surplus countries to make up for its perennial deficits.

"A little self-discipline would not be too uncomfortable for the United States, the world's largest economy and issuer of international reserve currency, to bear."

The statement, sanctioned by the Chinese government, urged international supervision over the issue of US dollars and reiterated calls for a new "stable and secured" global reserve currency to "avert a catastrophe caused by any single country".

The statement cited the previous downgrade of US treasury bonds by Chinese rating agency Dagong Global as having been justified by Friday's cut, saying S&P has...
Start free ReadyRatios
financial analysis now!
start online
No registration required!
But once registered, additional features are available.