US Parties Blame Each Other for AAA Loss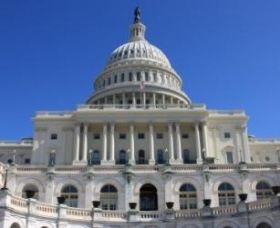 Senior Republican party members have sought to blame the White House for the loss of America's prized triple-A sovereign credit rating.

Ron Paul, a senior Republican member of the House Financial Services Committee and a presidential candidate, blamed the "reckless spending" of Washington for the downgrade."We were told by proponents of increasing the debt ceiling that a credit downgrade would come if we didn't raise the limit, but the opposite was true.

"The old crowd of elites still refuses to budge on doing everything it takes to get us out of this hole they've dug. Instead of real substantial budget cuts, we get minor or 'fake' cuts and budget tricks that may or may not happen far off into the future."

Paul Ryan, Republican chair of the House Budget Committee and champion of his party's alternative deficit reduction plan, said the downgrade was a "vindication" of the Republican's low-spending fiscal policies.
"We passed a budget which, according to someone fr om S&P yesterday, would have prevented this downgrade from happening in the first place," Ryan said.

However a senior aide to President Barack Obama, David Axelrod, said that the downgrade was a direct consequence of Republican party intransigence to negotiate with the Democrat administration.[It] clearly is on the backs of those who were willing to see the country default," Axelrod said.

Seeking to blame ultra-conservative Republicans, former US presidential candidate and Democrat senator John Kerry also described the cut as a "Tea Party downgrade".

"It is the Tea Party downgrade because a minority of people in the House of Representatives countered even the will of many Republicans in the United States Senate, who were prepared to do a bigger deal, to do $4.7tn, four trillion dollars, have a mix of reductions and reforms in social security, Medicare, Medicaid, but also recognise that we needed to do some revenue."

Republican senator and 2008 presidential contest loser John McCain seemed to accept S&P's critical assessment of the state of US politics, as he admitted "there is dysfunction in our system".

However he moved to shift the blame to President Barack Obama. "The fact is the President never came forward with a plan," McCain said. "I was gratified to hear that he had plans, but there was never a specific plan, there was always the so-called 'leading from behind'."

Nobel economics prize winner Paul Krugman belittled the downgrade by Standard and Poor's, saying there was no reason to take it "seriously". "In those rare cases wh ere rating agencies have downgraded countries that, like America now, still had the confidence of investors, they have consistently been wrong."

Krugman though agreed that "what makes America look unreliable isn't budget math, it's politics", as he also attacked the "extremists" who he said are blocking responsible fiscal policymaking.

Meanwhile, Bob Browne, chief Investment officer for investment management firm Northern Trust, said S&P's downgrade would not immediately impact its position on risk assets, noting that US short-term ratings remain unchanged at the highest level, A1+.

"Northern Trust does not see any fundamentally new information in the downgrade about the state of the US economy and the country's capacity to pay its...
Start free ReadyRatios
financial analysis now!
start online
No registration required!
But once registered, additional features are available.