Omaha Sage Eyes Tax Rises for the Rich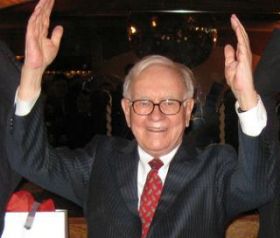 Billionaire investor Warren Buffett has called for America's super-rich to be taxed at a much higher rate than is currently the case.

In an op-ed piece in the New York Times on Sunday, the Berkshire Hathaway chairman, who invested billions of dollars in Goldman Sachs at the height of the financial crisis, says he wants taxes raised on he and his peers.

Ideally Buffett wants to see a return to tax rates seen in the 1980s and 1990s with a rise for anyone earning more than $1m - some 236,883 households across the country - including on dividends and capital gains.

"Last year my federal tax bill - the income tax I paid, as well as payroll taxes paid by me and on my behalf - was $6,938,744. That sounds like a lot of money," he writes.

"But what I paid was only 17.4 per cent of my taxable income - and that's actually a lower percentage than was paid by any of the other 20 people in our office. Their tax burdens ranged from 33 per cent to 41 per cent and averaged 36 per cent."
"If you make money with money, as some of my super-rich friends do, your percentage may be a bit lower than mine. But if you earn money from a job, your percentage will surely exceed mine - most likely by a lot."

Earlier this month, Berkshire Hathaway reported a near 75 per cent rise in profits 
Start free ReadyRatios
financial analysis now!
start online
No registration required!
But once registered, additional features are available.