KPMG Chicago Observes 9/11 by Volunteering at Phoebe Hearst Elementary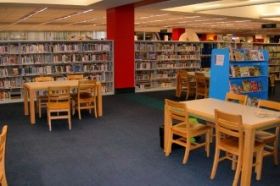 More than 300 volunteers to be sent by business consulting and accounting firm KPMG will mark the firm's 9/11 commemoration through volunteer works at Phoebe Hearst Elementary on September 9, while KPMG will send the school's students on a field trip.
The partners and employees of the Chicago office of KPMG LLP will enhance the learning environment for the more than 360 children who are attending Phoebe Hearst every day through its volunteer project called "Service in Remembrance" to commemorate the 10th anniversary of 9/11.
KPMG will create 17 in-classroom libraries, renovate the school's unused school library, organize the reading room, create a student garden so the students can learn about growing healthy foods, and give three books to each of the students to take home to read, among other initiatives.
Phoebe Hearst Elementary, a year-round Chicago Public School, is located at 4640 S. Lamon Avenue in Chicago.
"Understanding the Mayor's emphasis on education, we wanted to accomplish something extraordinary and impactful. We are pleased to collectively focus our attention on Phoebe Hearst to significantly enhance the learning environment for the children and teachers there," said KPMG Chicago Managing Partner Phil Rohrbaugh.
In addition, the 9/11 projects include the provision of Financial Literacy Workshops to all interested Phoebe Hearst parents and the creation of the school's first student garden, which will be connected to the school's curriculum and maintained by the parent volunteer group, to increase the school's connectivity with parents.
In order to enable the execution of this work, and other projects, including multiple interior beautification efforts, KPMG will also sponsor all Hearst scholars on a field trip Friday, September 9, augmenting their curriculum and providing them a unique opportunity to expand their educational experience beyond the classroom walls.
"Our children will be mesmerized when they walk through the doors Monday morning and the great benefit is the lasting impact on them in terms of knowing that someone cares about them and their future. We honestly cannot find the words to express our appreciation," said Phoebe Hearst Principal Jeffrey Porter.
According to Rohrbaugh, KPMG has teamed with One Good Deed Chicago and Hull House to execute this volunteer effort.
"It is very important for us to collaborate with key stakeholders to ensure that our time and commitment matches critical needs in the community, and we are thankful for guidance from the Mayor's office in supporting us to make this happen," said Rohrbaugh.
"Corporate support of our One Good Deed Chicago program is critical to our success. KPMG is the proof point to the kind of corporate leadership and commitment we envisioned when we created the program. We salute KPMG for its efforts," said Jenne Myers, Chief Service Officer, Mayor's Office.
A crucial component to achieving one of the city's three key education milestones – reading proficiently by third grade – comes simultaneously with KPMG's ongoing Family for Literacy program, which is part of the firm's a core focus of KPMG's corporate responsibility agenda.
KPMG, through its collaboration with First Book, has given nearly 15,000 books to children in Chicago to make an impact on the literacy crisis.
KPMG has provided its partners and employees volunteering at Phoebe Hearst with additional hours of volunteer time off for this project, on top of the 12 hours of volunteer time KPMG grants each person annually.
In commemorating the 10th anniversary of 9/11, KPMG's 85 offices across the country identified more than 200 local non-profits to support for the "Service in Remembrance" initiative.
Start free ReadyRatios
financial analysis now!
start online
No registration required!
But once registered, additional features are available.