"Balance" – The Best Accounting Game for Everyone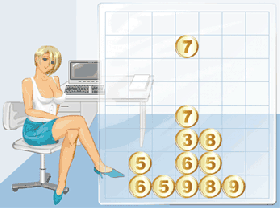 We present you a game called "Balance". It's a browser game and a unique hybrid of Tetris and Finance. You can play it on-line. The casual game "Balance" was created three years ago and gained the affection of many accountants, financial experts and other office workers in Eastern Europe. Today we are glad to present a variant of the game translated into English.
Not only financial officers will be interested in the game but any other person familiar with elementary mathematics. Notwithstanding seeming simplicity (see the rules) the game has boundless opportunities for improving your mathematical skills. It is hard to believe but there are some people among the gamers who have gained more than 30000 scores. Of course you cannot succeed the very first time but having specified skills you will obtain the result (I confess that being a developer of the financial analysis program ReadyRatios and a creator of the game "Balance" I cannot even gain 10000 scores :)
The game "Balance" is a good way of catching a 15-minute break from work relaxing and having an extremely engrossing occupation. And lest you having the occupation being caught by your boss we have foreseen a cover – press "Enter" and a financial text (Pause Mode) will appear on the screen instead of the game.
Just play! No registration required! But if you are registered on our website ReadyRatios.com, than you can take your rightful place in our rating table. We wish you engrossing recreation and great results! 
Start free ReadyRatios
financial analysis now!
start online
No registration required! But if you signed up extra ReadyRatios features will be available.