Obama's Student Loan Plan: Relief for College Consumers?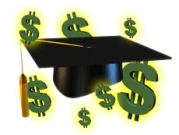 For decades millions of young Americans have grown up with the belief that earning a college degree would open the door to a successful career, a stable economic future, and the chance to place their footprint one step ahead of the prior generation.
But for many of today's college graduates that dream seems somewhat tarnished.
With unemployment still hovering at 9 percent, most of this generation's college graduates are facing chronic unemployment, chronic underemployment, and a staggering mound of student loan debt.
On Wednesday, October 25, President Obama unveiled his "pay as you earn" student loan program which White House officials say is designed to provide relief to students by making their college loan payments more affordable and easier to pay.
"Student loan debt has now surpassed credit card debt for the first time ever," Obama said. "And when a big chunk of every paycheck goes towards student loans instead of being spent on other things, that's not just tough for middle-class families, it's painful for the economy and it's harmful to our recovery because that money is not going to help businesses grow."
But while the plan may initially seem like welcome news to students and recent graduates, several CPA financial analysts, who actually administer the crushing student loan debt burden for students and their families, are already beginning to question the overall efficacy of the Obama plan.
"This plan really doesn't go to the essence of the problem – the fact that people are simply graduating with too much debt," said Brian Greenberg, CPA, owner and CEO of Brian Greenberg & Associates, LLC in Marlton, New Jersey. "We are not offering an actual debt reduction or modification as we did with the mortgage modification. We are simply giving students a longer period of time to pay the debt back."
Greenberg said extending the debt over time is essentially the same as a homeowner choosing a 25-year mortgage over a 15-year mortgage. "You can get by. But the debt is still there and the interest is still running," he said.
According to the White House, President Obama's "Pay as You Earn" student loan relief plan, imposed by executive authority, would allow borrowers to cap their student loan payments at 10 percent of their discretionary income beginning in January 2012.
The plan accelerates a measure passed by Congress last year which would have imposed the 10 percent cap in 2014. Borrowers currently pay a 15 percent discretionary income cap of 15 percent on student loans.
The administration estimates the 10 percent cap will reduce monthly loan payments for more than 1.6 million student borrowers.
The plan would also forgive all remaining debt in 20 years, as opposed to the current 25 year forgiveness threshold, and would allow borrowers who have more than one student loan, from the Federal Family Education Loan Program and direct loans from the government, to consolidate their debt into one payment.
The one-time debt consolidation offer, would allow approximately 6 billion borrowers the opportunity to reduce their interest rate on the loans a half percentage point. White House officials say this move would allow borrowers to lower their monthly payments and save hundreds in interest over the term of the loan.
But CPA's, like Greenberg, who see many of their clients facing a lifelong struggle with student loans, are skeptical.
Greenberg says allowing borrowers to extend the years to pay back a college loan only extends their indebtedness.
"With this 'new' program it will take longer to pay back the loan at interest rates of 7.9 percent, which causes the borrowers' debt burden to double every ten years," Greenberg said. "The good news is their payment will drop by a third or more. The bad news is they have more than doubled their debt, and they now have more than 15 years to pay for it."
While loan consolidation may be convenient for borrowers, in the sense they only have to make one payment a month, Greenberg also dismisses the idea the half a percentage point interest rate change will offer students any significant savings.
"Now, instead of having three monthly payments of $400, $350, and $325 totaling $1,075, students will have one monthly payment of $1,035," he said.
Greenberg also questions why federal programs like Fannie Mae and the FHA are able to extend borrowers loans for large sums of money at a 3 percent rate, while the "same government" charges students 7.9 percent on Federal PLUS loans simply to invest in their future.
"I do find that a bit offensive," he said.
Ultimately, however, Greenberg said the Obama plan fails to address two primary issues driving college debt: the failure of the consumer to understand the job opportunities that await him or her following their course of study; and the failure of the consumer to purchase an education from the least costly, yet most appropriate source.
The solution to both these problems, he said, doesn't rest in more burdensome oversight or regulation of the loan system, but with the college consumer themselves.
"Too many families are focused on finding a school that meets their perception of
a quality experience without factoring in the long term cost of these choices. (People want their child to be happy), but if the cost is ignored or otherwise minimized, they're setting up their child for anything but happiness," Greenberg said. "It is mind boggling that consumers will spend hours and days shopping for the best deals for things like tech items, yet invest very little time in considering the cost impact of a college education."
Start free ReadyRatios
financial analysis now!
start online
No registration required!
But once registered, additional features are available.