Izza and the ICAEW: Five Years ON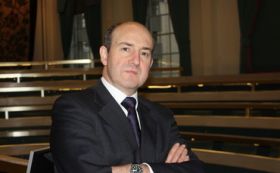 'ONE MAN, ten threats, 130,000 problems' was Accountancy Age's headline in our magazine on 26 October 2006.
The story referred to the impending appointment of chief operating officer Michael Izza to CEO of the ICAEW, replacing the institute's first-ever chief Eric Anstee.
The 130,000 problems equated to the institute's membership. Rather than ask them all individually if they had a beef with the ICAEW, Accountancy Age instead ran through ten key issues facing the institute. These included: falling membership numbers; trying to attract more students; rebuilding relations within the CCAB; and improving the decision-making process fr om what was considered a large and unwieldy council.
Five years on and there has been the odd setback, plus some stubborn problems, but for Izza the institute is in a better place.On members I think we've made great strides. On the public policy front we're gaining profile, and we're a more international body than before - we have 21,000 members working outside of the UK," says Izza.
Perhaps mindful of member concerns that the institute's international focus had proved a distraction from UK-based issues, Izza moves back to the topic of members' concerns on these shores.
"We had a meeting at the Treasury with (exchequer secretary to the Treasury) David Gauke on HMRC service standards - of great sensitivity to our members," says Izza.
"They (the Treasury) were left in no doubt about our unhappiness. It's a classic example of policy and what our members want."
The introduction of the Practice Resource Centre is another example wh ere members in practice will hope for focus.
The previous structure, which included the Practice Advisory Board, was criticised for failing to represent smaller firms' needs.
With Society of Professional Accountants vice chairman Howard Gross chairing the ICAEW's practice consultative committee, Izza expects more projects to help practices.
"Howard is quick to let me know how we're doing," says Izza.
Firm registration numbers are at their highest: 12,000 - although that might indicate a growing number of accountants left to fend by themselves.
"When people have lost their jobs we've tried to be as supportive as we can," says Izza. "We are working very closely with [support body for institute members] CABA."
Institute umbrella body CCAB went through the wars during the ICAEW's 
merger attempt with CIPFA in 2005.Tensions between ICAS and the ICAEW dissipated. However, the calm was interrupted last year when CIMA stepped away from the CCAB, in protest at its funding and focus on audit issues.
"Relations are good with the other bodies," says Izza, "and I hope CIMA decides to come back".So perhaps that one area from the ten that has been settled - but hardly resolved.
The ICAEW has the largest subscriber base in the UK, at 115,000 - from 111,000 in 2005. However, ACCA and CIMA have posted higher growth over the period.
And ACCA has overtaken the ICAEW as the largest UK institute overall during the period: 144,000 to 136,000 respectively.
Izza is unfazed, pointing to the huge number of students under ACCA's wing.
"ACCA's numbers - it was always going to happen," says Izza.
The ICAEW is positioned differently, he argues. Maintaining the quality and mass of ACAs is on target with student numbers having doubled, from 9,000 to 18,500, "lots are UK-based", he adds.
Izza is confident that the huge swathe of small and medium-sized practices will manage to survive the long-running economic crisis."There is still a role for them. But you see today they are different from 15 years ago. There were 9,500 audit firms in 1998, now there 3,800. They are using their accountancy skills to provide other advice."
But if audit continues to become less relevant as the threshold for the legal requirement for an audit rises, how can the institute marry this with the supposedly divergent qualification needs of small firms and those of the top ten auditors?
"Although you might assume audit is a major component (of the qualification), it's not dominant," he claims."Assurance papers will still provide skills you need. Even for learning [the qualification while in business]."
The economic position in Europe provides "a sombre backdrop" for future ICAEW strategy. There are also fundamental questions to be asked of audit.
Well-publicised proposals to turn the audit market upside down are failing to answer the question. "We have to have a vision for audit, the things being proposed don't deal with the future."
In tax, Izza foresees advisors having more and more access into HMRC systems - a proposal in its infancy.More support for medium-sized firms, more international growth - and a business resource centre planned for this year aimed at business accountants in the FTSE 250 and below - are key for the ICAEW.
But with the institute gaining FSA clearance to approve and regulate retail financial advisors under the Retail Distribution Review initiative to better manage that market, helping members provide other services is also a top priority.
Its long-running bid to regulate members to provide probate services will rumble on in 2012, but then once probate is approved the institute will look at other areas - such as finding a way to enable tax advisors' clients to be protected under legal professional privilege.
Opening up legal services will see more combinations of lawyer/accountant-owned firms. Izza seems confident that it will gain recognition to be able to regulate these firms.
"I think that's a full and exciting agenda," says Izza. "No-one's going to get bored. The changes over the next few years could be as fundamental as we've seen before."
Start free ReadyRatios
financial analysis now!
start online
No registration required!
But once registered, additional features are available.