Steve Jobs Loses Fight Against Pancreatic Cancer, Dies at 56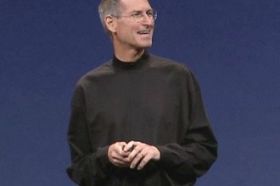 The Apple Inc. co-founder who revolutionized digital technology and the way people communicate, has died at the age of 56.
In an email sent to all Apple employees yesterday, Apple chief executive officer Tim Cook who replaced Jobs last August confirmed his death, saying "Apple has lost a visionary and creative genius, and the world has lost an amazing human being.
"Those of us who have been fortunate enough to know and work with Steve have lost a dear friend and an inspiring mentor," Cook wrote.
Steve Jobs's death came after Apple released iPhone 4S that features dual-core A5 chip, all new camera, and full 1080p HD video recording.
Apple is planning a celebration of Jobs's life that will take place soon.
"No words can adequately express our sadness at Steve's death or our gratitude for the opportunity to work with him. We will honor his memory by dedicating ourselves to continuing the work he loved so much," Cook said in the email.
Meanwhile, some of the key players in the field of technology and politics have extended their tributes and condolences to Jobs's family.
"The world has lost a visionary. And there may be no greater tribute to Steve's success than the fact that much of the world learned of his passing on a device he invented," President Barack Obama said in a statement.
"Steve, thank you for being a mentor and a friend. Thanks for showing that what you build can change the world. I will miss you," said Mark Zuckerberg, CEO and founder of Facebook.
"Steve and I first met nearly 30 years ago, and have been colleagues, competitors and friends over the course of more than half our lives. The world rarely sees someone who has had the profound impact Steve has had, the effects of which will be felt for many generations to come. For those of us lucky enough to get to work with him, it's been an insanely great honor," commented Bill Gates, Microsoft co-founder and chairperson.
"Today the world lost a visionary leader, the technology industry lost an iconic legend and I lost a friend and fellow founder. The legacy of Steve Jobs will be remembered for generations to come," said Michael Dell, CEO of Dell Inc.
"He was a great man with incredible achievements and amazing brilliance. He always seemed to be able to say in very few words what you actually should have been thinking before you thought it. His focus on the user experience above all else has always been an inspiration to me," Larry Page, CEO of Google, said.
"Once in a rare while, somebody comes along who doesn't just raise the bar, they create an entirely new standard of measurement. #RIPSteveJobs," said Dick Costolo.
Although several reports claimed that Steve Jobs died of pancreatic cancer, Wikileaks released on Twitter its inference of how he died.
Two photos purporting to be part of Apple CEO Steve Jobs medical file, which have been spread over email and appeared in a number of Internet publications, show a HIV positive status, according to Wikileaks.
Wikileaks noted that the results by HIV testing company SxCheck are dated September 1, 2004. Though SxCheck's website did not launch until 2006, its parent company Adult Industry Medical Health Care Foundation has existed since the 1980s.
"It is thus plausible that the results are a re-issue of earlier tests associated with its parent company," Wikileaks said.
The whistleblower said it is possible that Jobs's pancreatic cancer was a Kaposi's sarcoma, which are noted to emulate pancreatic cancer in HIV-positive patients, if he did have HIV.
Wikileaks further noted that Steve Jobs also followed a diet occasionally recommended to AIDS patients as an alternative therapy.
A close inspection by Wikileaks of the second image led the whistleblower to conclude that Jobs personal details are slightly misaligned and do not follow the perspective of the surrounding text.
"'Born' in the 'Birth date' field is unusual, although not by itself a key signature of fabrication," it said.
"The social security number, on the other hand, is of a valid structure and was issued in California, although it is unknown if it is Mr. Jobs," Wikileaks added.
Start free ReadyRatios
financial analysis now!
start online
No registration required! But if you signed up extra ReadyRatios features will be available.