Return to Senddr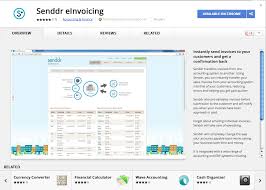 The benefits of e-Invoicing are clear. They deliver your company's sales invoices to your customers and send alerts back to you when that invoice is approved for payment. This greatly increases the efficiency of your accounts receivable department and gives you a faster, more efficient cash flow. These e-invoices are then transferred directly into your existing accounting software which eliminates the need to have a human being entering in data which naturally results in human errors that can throw off the accounting. The accounting software packages that dominate globally include FreeAgent, Freshbooks, Kashflow, Sage 50, SageOne, QuickBooks, Yendo, Xero and Zoho. The e-invoicing done through the new, Dublin-based firm called Senddr can seamlessly integrate into any one of these software packages.
Prior to Senddr's entry into the e-invoicing business, the legacy systems left smaller companies out of the loop as they were cost prohibitive. With the advent of the internet "Cloud" now it is possible for smaller companies, or SME's (small medium enterprises) to benefit from this highly efficient e-invoicing package. Senddr offers free e-invoicing for small companies. For those small companies interested in taking advantage of Senddr's generous offer, they also offer to these small businesses additional services they can pay for that will audit the companies for tax compliance and the archiving of invoices. If the SME sends a large number of invoices, there is a regular fee for the service.
The benefits of keeping an accounts receivable department straight is clear, but this service benefits the suppliers of the companies using Senddr as well by providing an end-to-end connection between suppliers and customers. This frees up the time of the person who would be handling those inquiries as a typical day to day part of their job.
Senddr's closest e-invoicing competitor is Tradeshift, which although it lists more of a variety of services than Senddr, can only integrate their system in five of the nine major accounting software packages that Senddr can. In the last year, Senddr rolled out the beta version of their software to more than ten thousand companies in Europe and beyond. Now that they are in full version capability, they expect even more to sign up with them.
Start free ReadyRatios
financial analysis now!
start online
No registration required!
But once registered, additional features are available.