International Financial Reporting Tool (IFRT) Launched to Commercial Application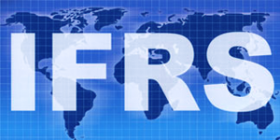 We are glad to inform you that our new service for report compilation in compliance with international standards was launched to test application, due to the results of test application. The service is available on terms of annual subscription.
What is IFRT, and what it is designed for
International Financial Reporting Tool (IFRT) is a full package of IFRS report forms ready for filling in. If you need to prepare quality reports complying with the IFRS, you will not do without IFRT. IFRS do not contain any prepared or at least sample report forms. However, the standards require to present thousands of figures and text comments. Independent report development is very time-consuming. Taking prepared reports on the basis of samples of other companies is not the best choice, because one may miss some important figures. The fastest and most reliable way is to fill in the prepared IFRT report tables.
Why you can trust IFRT
IFRS report forms presented in our program cover all the Standards and Interpretations and are checked against the IFRS Taxonomy. IFRS Taxonomy is a format of report submission in electronic form published officially by the IFRS developers themselves. Which means that these are report forms created directly by the international standard developers. Taxonomy contains more than 50 sections representing more than 3,000 items for mandatory reporting, from the Statement of Financial Position and Statement of comprehensive income to the number of notes for capital assets, intangible assets, asset impairment, financial instruments, etc.
IFRT is not just tables, but a convenient instrument for filling them in, too
We have applied a unique table filling in the tool. In contrast to MS Excel, here you can enter the data from general to particular. I. e., in an А=В+С formula, it is not necessary to enter В and С in order to calculate А. You can enter А first, and the formula will still work.
The program controls correctness of data entering in all the report forms and comments on the real time basis. Once the program indicates any difference, the cell is colored in red, and a user can see, which report formulas differ.
You can also enter any adjustment posting in the terms of debit and credit clear for an accountant, which will be automatically reflected in all reporting statements.
See more details on the IFRT features.
How much
The prices are very affordable for all companies regardless the scale of their activities, and start from 295$ a year.
You can try it FREE, all you have to do is just to register at the website and launch the software. You can add up to 3 entities. The only limitation is that a part of the figures is concealed when you send the final report to printing in demo mode.
Analogues available
You will not find anything like this in the Internet! Even if you already have a prepared IFRS report, visit our website and use IFRT free as a perfect IFRS disclosure checklist. This way, you will check if your report includes all the data necessary for reporting according to IFRS requirements.