Bush Says Tax Cuts Shouldn't Be Named for Him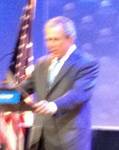 Former President George W. Bush said Tuesday that he wished the Bush tax cuts were not named for him. "I wish they weren't called the Bush tax cuts," he said during a speech at the New York Historical Society. "If they were called somebody else's tax cuts, they're probably less likely to be raised."
Bush made the remarks at a conference on tax policies for 4 percent growth, sponsored by the George W. Bush Presidential Center. "If you raise taxes, you're taking money out of the pockets of consumers, and it's important for policy makers to recognize that all the doubt about taxes causes capital to stay on the sidelines," he added. "Uncertainty means that capital, the fuel for private sector growth, simply won't move."
Bush noted his institute believes in free enterprise. "Much of the political debate, and I guess rightly so, is about our balance sheet," he said. "It makes sense. The debt-to-GDP is pretty high. When you think about entitlements, the overhang is pretty daunting. But we believe that in order to solve the balance sheet, first and foremost you've got to grow the private sector. Therefore, the focus ought to be on private sector growth. That private sector growth will yield increased revenues. The pie grows, the debt relative to the pie shrinks, and with fiscal discipline you can better solve your current account deficits and your entitlements."
He noted that in July the Bush Institute will be publishing a book. "That's got to be a pretty staggering thing for the cynics up here," he joked. "I publish a book and now the Bush Institute is publishing a book. They didn't think I could read, much less write a book."
The book will be called "The 4% Solution" with contributions from 21 experts, including five Nobel laureates, including some in the audience, who provided content on how to achieve 4 percent growth.
Bush also joked, "You know, I'm often asked if I miss the presidency. I really don't. It was inconvenient that I had to stop at some stop lights coming over here. I guess I miss that."
However, he added that he misses the role of Commander-in-Chief of the military. "I do miss being Commander-in-Chief a lot," he said. "I admire our military a lot. And the Bush Center, the Institute, will give me and Laura an opportunity to repay as best as we can our veterans. I'm taking a bunch of vets mountain bike riding in Palo Duro Canyon. I love mountain bike riding. But what I don't like to do is be beaten on a mountain bike ride by a one-legged veteran, which is likely to happen. We also sponsor a golf tournament for our vets. It's a way to say we love you and we honor you."
Bush noted that he is building a Bush Center in Dallas, Texas that will comprise a library and archives with over 4 million photos, and tens of thousands of boxes of materials, along with hundreds of millions of emails that can be analyzed by historians. The museum will be about presidential decision-making.
"The museum frankly is not going to last if it's only about me," he said. "It will be interesting for a brief period of time. The museum will be about principles, and how you make decisions. It will contain a piece of the World Trade Center to remind people of that fateful day. Here's a lesson, by the way. In life, you're going to be dealt a hand you don't want to play. It's going to happen to all of us. It certainly happens when you're President. The question is not whether you're going to be dealt the hand. The question is how do you play it? Then there's the institute. When you get out of office, it's kind of a daunting feeling. You've served, you've given it your all, and all of a sudden you've got some years ahead of you. I have decided to stay out of the limelight. I've had plenty of the limelight. I don't think it's good, frankly, for our country to undermine our President. I don't intend to do so. But I do intend to remain involved in the areas I'm interested in."
Start free ReadyRatios
financial analysis now!
start online
No registration required!
But once registered, additional features are available.