HMRC Sets Out IR35 Stall With New Tests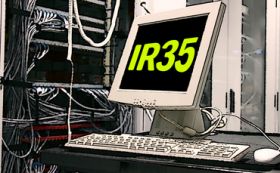 A SERIES OF TESTS to gauge the status of workers has been released by HM Revenue & Customs.
The IR35 legislation is designed to prevent people who use intermediary companies to sell their services from being better off than if their clients employed them directly.
The clarifications come in the wake of recent controversy surrounding the status of 2,000 senior public sector staff who were employed in this manner.HMRC has released 12 tests with illustrative scenarios with the aim of helping to determine the status of workers, and therefore whether IR35 applies.
HMRC is piloting these tests and scenarios, and emphasises they are "not set in stone" and they may change "in response to feedback and business changes" so the clarifications "remain relevant and helpful".
The tests are:
Business premises: Does your business own or rent business premises which are separate both from your home and from the end client's premises? (Score ten points if 'yes')
Professional indemnity insurance: Do you need professional indemnity insurance? (Score two points if 'yes')
Efficiency: Has your business had the opportunity in the last 24 months to increase your business income by working more efficiently? (Score ten points if 'yes')
Assistance: Does your business engage any workers who bring in at least 25% of your yearly turnover? (Score 35 points if 'yes')
Advertising: Has your business spent over £1,200 on advertising in the last 12 months? (Score two points if 'yes')
Previous PAYE: Has the current end client engaged you on PAYE employment terms within the 12 months which ended on the last 31 March or with no major changes to your working arrangements? (Score -15 points if 'yes')

Business plan: This test has two parts. Firstly, does your business have a business plan with a cash flow forecast which you update regularly? Secondly, does your business have a business bank account, identified as such by the bank, which is separate from your personal account? (Score one point if 'yes')
Repair at own expense: Would your business have to bear the cost of having to put right any mistakes? (Score four points if 'yes')
Client risk: Has your business been unable to recover payment for work done in the last 24 months and/or more than 10% of yearly turnover? (Score ten points if 'yes')
Billing: Do you invoice for work carried out before being paid and negotiate payment terms? (Score two points if 'yes')
Right of substitution: Does your business have the right to send a substitute? (Score two points if 'yes')
Actual substitution: Have you hired anyone in the last 24 months to do the work you have taken on? (Score 20 points if 'yes') 
Start free ReadyRatios
financial analysis now!
start online
No registration required!
But once registered, additional features are available.