Obama Calls for Extension of Wind Energy Tax Credits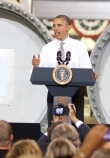 President Obama urged Congress to extend expiring tax credits for wind energy and other forms of clean energy. During a visit Thursday to TPI Composites' wind turbine blade facility in Newton, Iowa, on Thursday, Obama pointed to the positive impact of the tax credits on the clean energy industry.
"I'm calling on Congress to extend tax credits that are set to expire at the end of the year for clean-energy companies like TPI," he said. "Let's not wait. Let's do it now."
He noted that since he took office, U.S. dependence on foreign oil has gone down every year, and America is now producing more domestic oil than any time in the last eight years, while the U.S. is producing more natural gas and biofuels than at any time in history.
"That's good for the Iowa economy," Obama added. "We're laying the foundation for some of our nation's first offshore wind farms. And since I became President, America has nearly doubled the use of renewable energy, like solar power and wind power."
He noted that the wind industry, thanks largely to tax credits has not taken off, especially in Iowa, which now receives nearly 20 percent of its electricity fr om wind power.
The Production Tax Credit provides wind farms with 2.2 cents per kilowatt hour of wind energy they produce, and is due to expire at the end of the year. Another item on Obama's "to-do list" for Congress is to expand a 30 percent tax credit for investments in clean energy manufacturing, also known as the Section 48C Advanced Energy Manufacturing Tax Credit. He noted that the tax credits support 37,000 jobs in the U.S.
Obama noted that modern windmills contain more than 8,000 different parts and many of those used to imported. Today, more and more of the parts are being made in the U.S. While there were formerly only a few dozen manufacturing facilities attached to the wind industry, today there are nearly 500 facilities in 43 states employing tens of thousands of American workers.
At TPI, there are 700 to 800 jobs and $30 million being put back into the community, Obama pointed out, but without an extension of the tax credits, the jobs could be lost. "I'm here today because, as much progress as we've made, that progress is in jeopardy," he said. "If Congress doesn't act, those tax credits that I mentioned—the ones that helped build up the wind industry, the ones that helped to bring all these jobs to Newton, those tax credits will expire at the end of the year if Congress doesn't do anything. If Congress doesn't act, companies like this one will take a hit. Jobs will be lost. That's not a guess, that's a fact. We can't let that happen. "
Obama pointed out that there are several Republican governors, including Iowa Governor Terry Branstad, who are calling on Congress to act. "There are members of Congress in both chambers and on both sides of the aisle—including your two senators—who support these tax credits," he added. "And that doesn't happen much in Washington wh ere Democrats and Republicans say they agree on something. So if you agree, why haven't we gotten it done yet? This is not just an issue, by the way, for the wind industry. Some of America's most prominent companies—from Starbucks to Campbell's Soup—they're calling on Congress to act because they use renewable energy."
Obama urged citizens to prod Congress to pass the tax credit extension. "Sometimes when I think about Washington and Congress—and I know some of you think the same way—I don't get it," he said. "I understand why we wouldn't get something if we really disagree on something. And there are some big disagreements: They want to make big cuts to pay for more big tax cuts for the wealthy. I disagree with that. I think we should have a balanced approach—cut waste, but make sure that everybody is paying their fair share. An issue like that, maybe it can't get settled before an election because they just have a different approach. I understand that. But this, everybody says they agree to or at least a lot of people agree to it. So I'm going to need your help. I need you to get involved. I need you to help get this done. I need everybody here in Newton—and I mean everybody—I don't just mean folks who work at TPI—anybody who's watching, everybody here in Iowa, pick up the phone, send an email, send a tweet, tell Congress, let's do the right thing. Tell Congress the story of Newton. Tell folks why it's so important to this community. Tell them we've come too far to turn back now."
Sen. Chuck Grassley, R-Iowa, said he has introduced legislation to extend the wind energy production credit. Grassley authored and won enactment of the first-ever wind energy production tax credit in 1992. The incentive was designed to give wind energy the ability to compete against coal-fired and nuclear energy and helped to launch the wind energy industry, and his office said he has worked to extend the credit ever since.
"There's strong bipartisan support in both the House and the Senate for extending the wind energy tax credit," he said in a statement after Obama's visit to Iowa. "I introduced a bill with bipartisan co-sponsors in March, for example. The provision is hung up in the lack of a way forward on dozens of expiring tax provisions. The President could exert his leadership by working with Congress on a way forward instead of calling for a provision that's a no-brainer for many of us. He's focusing on the easy part of a bigger task. The stakes for the wind industry and the country in general will only get worse with delay. It's time to act, not politick."
Start free ReadyRatios
financial analysis now!
start online
No registration required!
But once registered, additional features are available.